I will show all you lovers of the grape, dining and entertaining wonderful design ideas and products to make your wine space warm and inviting for your family and friends. It will be the perfect wine area to compliment your style and your food!
First, lets talk a little about wine. It can be defined as the fermented juice of grapes or the act of taking someone 'out on the town' to 'wine and dine' them.
That fermented juice can be red, white, rose and bubbly enough to tickle your nose.
There are at least fifteen different kinds of wine glasses depending on your choice of drink.
Consider the endless variety of wines based on growing region and environment, color, proper
storage,swirling and alcoholic content and you can get dizzy even before imbibing of this nectar of the grape. I love designing wine spaces! I have some Sherwin Williams paint colors that are wonderful for creating that inviting and entertaining decor that will welcome your friends and families to your wine area. Here are my favorites- add slate grey and a creamy neutral.
Let's Start Our Wine Decor with Lights and Furniture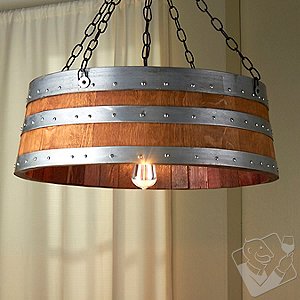 Created from the top of a retired French oak wine barrel. Comes as shown with hanging hardware and one (1) Edison light bulb. Approximate Dimensions: 14′ H X 20′ W X 12′ D Please Note: Each Are Unique & No Two Are Alike